Becoming an Educated Online Art Buyer
Art brings beauty and meaning to any space. Not long ago, we had to spend thousands of dollars to put a single painting on our walls. The average price for my original paintings is over five thousand dollars.
The digital revolution changed all that. Now Fine Art prints rivaling the originals can be purchased for under thirty dollars and framed or museum quality gallery wrapped canvas ready to be hung can be had for under two hundred dollars. Advances in printing and digital technology has made beautiful art affordable for everyone.
Along with dramatically lower prices, the choices of presentation have exploded too. You can now have prints on canvas, a wide variety of Fine Art papers, acrylic, metal, or wood. This wealth of choices can be confusing to those new to buying art. The purpose of this article is to help make the choice easier by turning you into an educated Fine Art print buyer.
Choosing Art
Art brings beauty and meaning to your life. What you find beautiful and meaningful someone else may not. Choosing art is very personal. There are certain movies or music that affect you deeply. You may find yourself watching or listening many times. Just as with that movie or piece of music, when art connects with you, you know it. When choosing a painting, choose what you love. You don't need to understand why you love it, but something speaks to you. When you choose art in this way, you will never be disappointed. Choose what you love.
How Does It Fit In Your Space?
Thanks to digital technology, there are no longer surprises about how the new art will look in your home. Many online art galleries (like this one) allow you to see what the art print will look like on your walls. You can see how the print looks on the colors of your existing walls or change those colors to any new color you may be inspired to paint. You can adjust the sizes of the print until the right size fits perfectly.
We also have a new technology where you can use your cell phone's camera to see how the print looks in your actual home.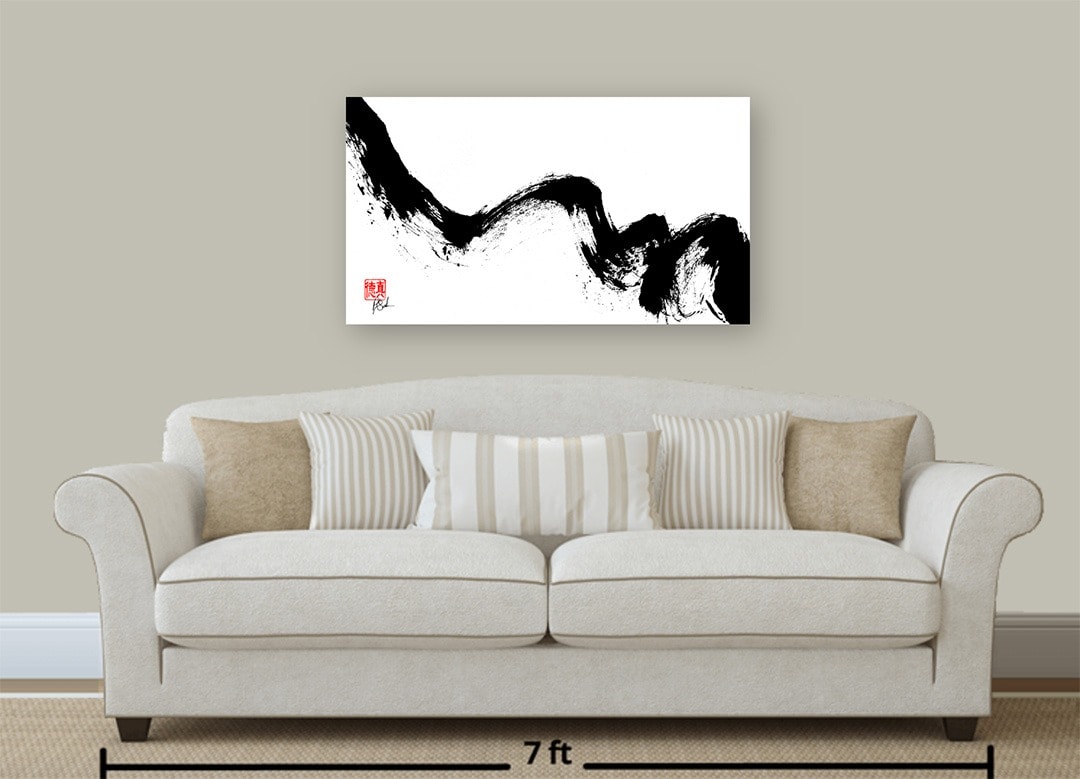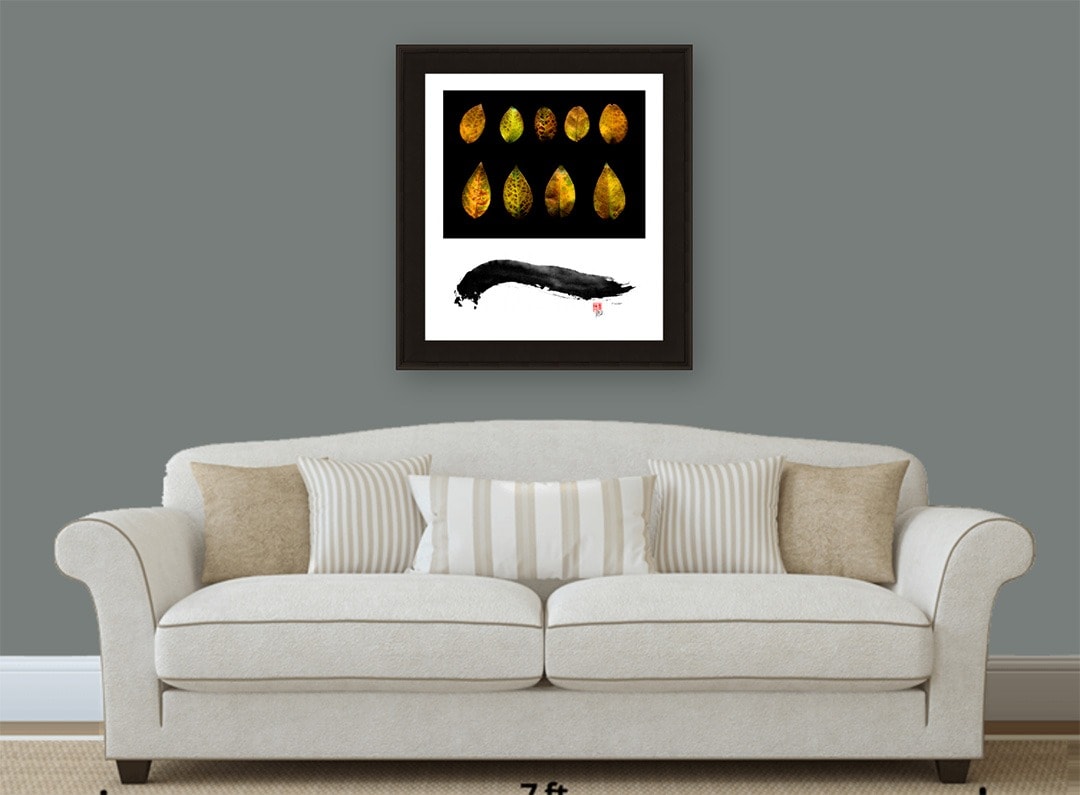 The Presentation Options
Now that you've found the art you love, we'll cover the perfect way to present it. This is the part that can confuse new art buyers. There are so many choices.
Gallery Wrapped Canvas
This is a good choice for most art. It is simple, clean, elegant, and ready to be hung on your walls. You can choose to add a frame, but you don't have to. It's also more affordable than the other options.
The Canvas Options
You can choose a matt finish, or a matt finish with a slight gloss over-coating, or glossy finish. I would choose a matt finish for most paintings as it avoids all reflections. For photographs, I would consider the slight gloss over-coating as it can add a little to the sharpness, color saturation, and depth. The surface reflection will be minimal. I would not choose a glossy finish because there is too much reflection. That's why I don't offer this as an option in our gallery.
You can choose either .75 inch or 1.5 inch gallery wrap. This refers to the depth of the wood stretcher frames. It's your choice. I prefer the slightly thicker 1.5 inch stretcher frame as it gives more depth from the wall and is more typical of the stretcher size of canvas paintings.
Edges
Next you want to choose what the sides will look like. If the canvas is not framed, the sides will show. You can choose any color for the sides you like. Or you can choose mirror image, which is usually my choice. Mirror image mirrors the art's surface closest to the edges and presents a seamless look as if the painting were wrapped around the edge sides.
Frames
You can also frame the canvas print. It's beautiful but it adds considerably to the cost. If you can afford it, I would go this way. You can try every option out before you buy and see how it looks to you. If you're on more of a budget, then the unframed gallery wrapped canvas is an excellent way to go.
Rolled Canvas
You can also receive the print on canvas without stretching. In this case you will need to stretch it yourself or bring it to a framer or artist to do this for you. It may cost you more to do it this way unless you're skilled at stretching your own canvas, but it is an option.
Paper
There are a great variety of paper options, but they are not all equal in quality for a Fine Art print. First you want to make certain the paper is acid-free and printed with archival inks so it will last. This is important. We offer a smooth fine art paper and a watercolor paper that has more texture. Both these papers have a matt finish. A glossy finish on paper is not appropriate for Fine Art prints. It will be far more reflective than the gloss coating on canvas. This is fine for postcards, but not for art prints.
Frames
You can buy Fine Art prints on paper for as little as thirty dollars and then frame them yourself or bring them to a frame shop. It may cost you more to do it this way, but if you have a good relationship with a framer or frame shop, this may be a good choice for you. There are a wide variety of frames on our website. If you don't find what you want, a custom frame shop is a good option.
In choosing a frame, simpler is usually better. An ornate frame can sometimes distract the eye from the art rather than support it.
Matts
You will want a matt with a paper print before framing. Without a matt, the print will come into contact with the glass or acrylic used with the frame. If any moisture or condensation gets into the frame and the paper is pressed up against the glass or acrylic, it will stick and destroy the print. So a matt is always necessary when you frame a paper print.
We offer matts in 2 inch, 3 inch, and 4 inch sizes. This refers to the size beyond the print size. Generally a 2 inch size is fine unless the print is particularly large, over 20 inches square.
Metal
Metal has a very contemporary look and it is a good choice for photographs. Generally I would not recommend printing on metal for Fine Art prints, especially paintings. For those who want this contemporary look and have other metal prints hanging in their home or business, we offer this as a choice. It would not be my recommendation for the fine art prints of paintings in my gallery, but the choice is there if you want it.
Acrylic and Wood
I do not offer these choices in our online gallery. From the examples I have seen, they do not seem appropriate for Fine Art prints, especially of paintings.
Conclusion and Recommendations
In my experience, you cannot go wrong with gallery wrapped canvas, either framed if you can afford it or unframed. This works very well with my paintings. I would also choose a matt finish for the canvas.
The prints also look beautiful framed with a 2 inch matt and either the smooth fine art paper or the textured watercolor paper. Both look wonderful.
I hope this advise has been helpful and that whatever Fine Art prints you choose add meaning and beauty to your home and your life.